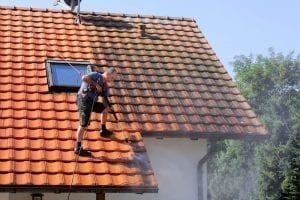 Cleaning a roof may sound like a boring task for the weekend, but it's something that needs to be done regularly to help maintain it. If you're not sure where to start, then here are a few tips that can help you.
How to Get Started Cleaning Your House Roof
Do your research
If this is your first time at cleaning a roof then we recommend you do some research. Having a proper understanding and the correct information is key to getting the job done right. You might first want to consider if you actually want to clean your roof yourself. If you don't, then you can hire a roofing company to do it for you.
Have the right tools and equipment
If you decide to clean your roof yourself, then you're going to need the proper tools and equipment. Again, do some research and look at all the facts. Find out all you can and do an online search for a store that sells the materials you need. Remember, using the right products and tools can prevent unnecessary damage to your roof and save you money in the long term.
Which method should you use?
There are 2 methods of cleaning a roof. One method uses natural products or chemicals to give what is called 'a soft wash'. The other method uses high pressure washing cleaning.
As a rule of thumb, soft washing is recommended for most roofs because high pressure washing doesn't always remove the dirt and can damage the roof. A professional roofing company knows how much pressure a roof can withstand and how to use the pressure washer so that it doesn't cause damage.
If you do have moss or algae on your roof then it's important to get it removed. Algae can feed on organic material in the shingles which could lead to wood rot. It can also spread, getting into the timber and underneath the roof.
The advantages of using a professional roof cleaning service
If all of this sounds like hard work to you, then why not ask a roof cleaner to do the job for you. Often they will use ammonia or bleach to kill algae whereas others may use vinegar and water, which is more friendly for the environment. Whatever solution they use, a good roof cleaner should protect your plants beneath from any excess solution which spills out from the gutters and could kill your plants.
Roof cleaners don't just clean roofs, however. They also check for places that may need repairing. For instance your roof may need repointing, re-bedding or even re-capping. A good roof cleaner can point out these repairs and even give you a quote to get them fixed.
Often roof cleaners will clear the gutters at the same time. This is often necessary after the roof has been cleaned because algae, leaves, dirt, and moss are likely to collect in the gutters once the job has been done.
Each of these services is likely to have a separate cost but it is still cheaper than getting each job done by a different company.
Cleaning a roof and maintaining it can be dangerous to attempt yourself especially if you don't have the right tools, experience, and knowledge. Fortunately, The Roofman has over 25 years of experience and can clean your roof efficiently and thoroughly in relation to its condition.
If you're not sure if your roof needs cleaning then why not book a free roof inspection or of you prefer, simply organise your roof pressure cleaning service today by calling us on 0410 452 234.