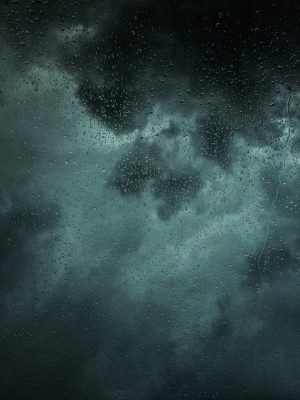 Now that spring is upon us here in Brisbane, temperatures start to rise but unfortunately, it's also an indication that storms are on their way. Don't worry, we've put together a few tips to help you prepare your roof for the storm season. So, pull up a chair and take a read.
What sort of damage can storms do?
You're probably familiar with the chaos that summer storms can cause – torrential rain, hail, and high winds can cause untold damage to properties and cars, also bringing down power lines to add to the misery. Unfortunately, it's a time of the year that roofs and gutters are extremely vulnerable to damage.
Wind damage
Heavy winds can blow tiles or metal sheets off your roof or gutters, rip hardware such as aerials off your roof, and blow heavy tree branches onto your roof causing damage.
Hail damage
Large hailstones can damage structures like whirlybirds and skylights. They can also cause cracks in your gutters or roof. And older roofs, in particular, are especially at risk of damage from hail.
Water damage
Heavy rain also has a habit of finding any sections of your roof or gutters that are damaged leading to overflowing gutters and inevitably water entering your home and causing damage.
How to prepare your roof for storm season
It's always best (and cheaper) to prepare for storm damage before the storms reach Brisbane. Fortunately, there are several small steps you can take to prepare your roof and gutters for storm season
#1 Clean your roof and gutters
Damaged or blocked gutters and drains can cause significant damage to your home. Rather than draining away, water pools on your roof increasing the risk of it leaking into internal structures such as walls and ceilings. It's essential to give your gutters, downpipes, and roof a thorough clean to prevent water build-ups and damage. If you don't have sufficient confidence to do this yourself, then an experienced gutter cleaning company can do this for you.
#2 Cut back any overhanging tree branches
Inspect the exterior of your property for any trees or branches that are perilously close to your property or overhanging. Trimming these back could save you damage and a large repair bill
Were you aware that often insurance companies don't provide cover for roofs that haven't been properly maintained? If you haven't had your roof inspected recently or you worry that it could be vulnerable to storms why not book a free inspection with The Roofman. We will examine all areas of your roof as well as your gutters and downpipes and provide you with a detailed inspection sheet and no-obligation quote. This leads on to our 4th and final tip …
#4 Contact your insurance provider
Speaking of insurance, make a mental note to check that your house is covered in cases of damage to your property and/or contents. As the boy scouts' motto states "be prepared" ……
Investing a small amount of money and time now to prepare your roof for the storm season, could save you much money and heartache.
Should you experience any damage during the storm season, then don't fail to contact The Roofman for a prompt response, emergency repairs, and a speedy no-obligation quote.